Sustainability is an important part of what we do. Our business model is aligned to the UN Sustain-able Development Goals (SDG's) in its aim to reduce the world's dependency on hydrocarbon fuels and provide clean, reliable steam. Our business has prioritised the following SDG's:
These SDG's enable our business to work towards achieving the objectives of the World Energy Council of energy systems that deliver secure, affordable and environmentally sustainable energy.
Boiler plants increasingly require sophisticated engineering in line with environmental regulations. They increasingly are utilizing different fuels to meet production needs. Combustion needs to be optimised on-demand for efficient startup and operation. Plants have to operate safely, reliably and affordably.
Steam Generation can assist in undertaking cost-benefit analyses to determine existing load profile and subsequent energy-efficiency and cost-savings plans. These can then be implemented through retrofit, replacement and automation technologies. These sustainable technologies include installation, which can optionally be funded through our financing platform.
BOILER CONVERSIONS
Steam Generation has completed numerous coal-to-gas fired boiler conversions with astounding success. Our team of experts provide turnkey conversions of burners to suit the sustainability requirements of our clients.
COAL BOILER ENERGY BALANCED CONTROL SYSTEM – EBCS
The EBCS offers the basic controls to operate a coal boiler on automatic reducing GHG emissions. This increases the energy efficiency and saves on operating costs.
Features include:
Unistream Pro PLC & HMI technology locally supported in South Africa
7" Touch screen
Full ALARM functions
Controlling Combustion: Variable Speed Drives on the following:

FD & ID Fans
Stoker
Controlling Steam Pressure via a Steam Pressure Transmitter
Controlling Furnace Pressure / Draft
Controlling boiler water level using Spirax probe technology
BOILER HOUSE INSTALLATIONS IN CONTAINERS – "MOBILE STEAM PLANTS"
There is an ever increasing demand for convenient and sustainable steam supply in the energy and water scarce regions of Africa. We have been involved in installing boiler plants in containers, providing secure and accessible steam supply in remote locations. We currently have over twenty (20) containerised steam plants installed throughout Africa.
SUSTAINABLE HEAT GENERATION TECHNOLOGY
Steam Generation is at the forefront of delivering sustainable heat generation technologies. This includes economisers, flue gas analysers and combined heat and power (CHP). Moreover, we sup-ply sustainable fuel-fired boilers that run on biomass, waste-heat or natural gas.
We deliver these solutions through our partnerships with Cochran boilers, Autoflame Combustion Control Systems, Limpsfield Burners and Vyncke throughout Africa. Our technologies can help customers realise up to 95% net plant overall efficiency, 40% opex savings and low GHG-emission heat and power.
Cochran
Cochran has a wide range of heat recovery boilers tailored to customer steam and power requirements. The range includes Cochran's Composite Boiler technology which enables a boiler to fire on up to three (3) sources of fuel. This could be generator/turbine waste-heat, natural gas and diesel resulting up to 30% reduced boiler fuel costs.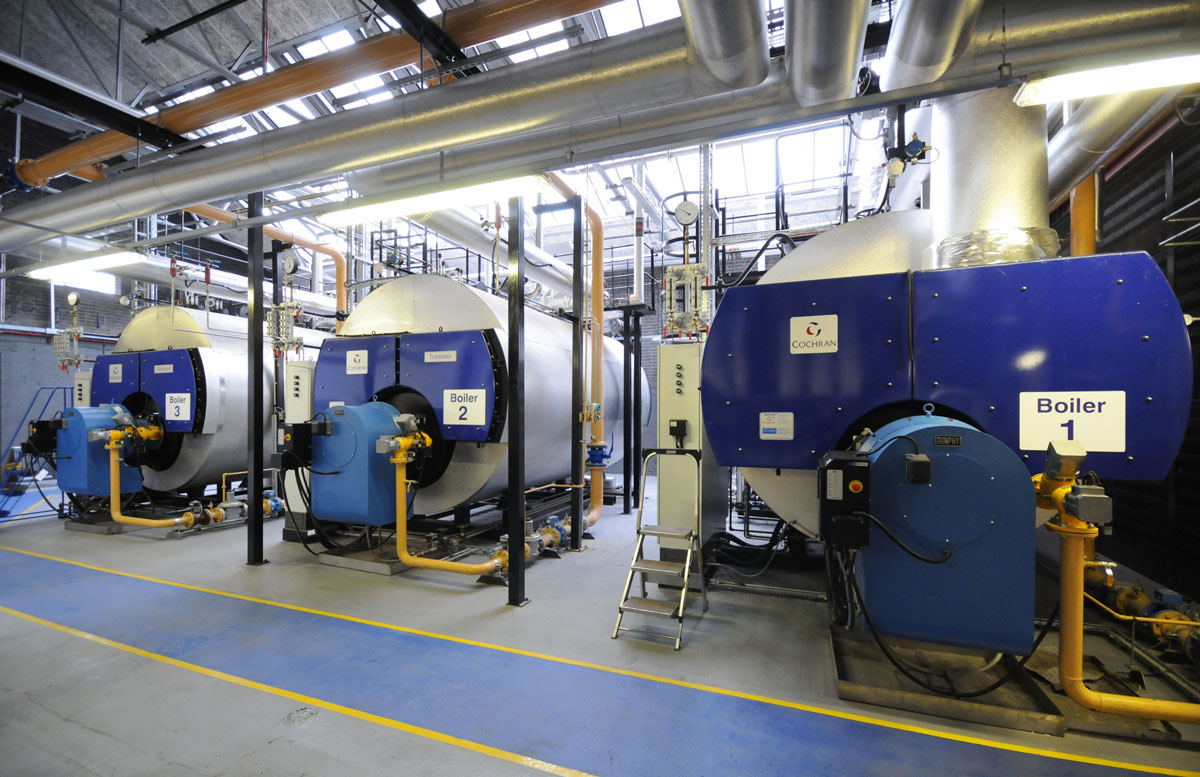 Autoflame
As pioneers in combustion technology, Autoflame helps clients all over the world reduce both the emissions and the fuel cost of their existing boiler plant. This is accomplished through their advanced combustion control systems based on their microchip technology.
This microchip technology constantly adjusts the fuel-to-air mix ratio of the combustion process. It can reduce as much as 15-20% in flue gas emissions. Fuel savings make for impressively short payback times building a compelling business and environmental sustainability case.

Limpsfield
The Limpsfield burner range is engineered to optimally distribute air at the burner head for stable combustion and flame geometry throughout the firing range. Each burner is guaranteed to generate up to 3% oxygen emissions while firing gas with negligible carbon dioxide and low NOx production.
With high turndown ratios, large boilers can operate at much higher efficiencies with quick load following times.
The products are built to the International Quality Management System standard. This standard looks at the manufacturing and testing of gas and oil fired burners with associated valves, enclosures and housings. This results in efficient combustion, superior reliability and maximised safety.
VYNCKE
VYNCKE boilers turn biomass into clean energy. VYNCKE Boiler plants are designed and built in partnership with Steam Generation to burn green energy. Energy plants burning biomass and Solid Recovered Fuel (SRF) cogenerate thermal energy from 1 – 100 MWth and electrical power from 0.5 – 15 MWe. The energy comes individually or in any combination of steam, hot water, thermal oil and hot gas with or without electrical power generation.